Smart C++ and Blueprints support to craft the best games
Rider is a fast and powerful IDE for Unreal Engine and Windows C++ development. Rider gives you insights on Blueprints, assists with the reflection mechanism, and takes care of coding style and code accuracy.
Rider for Unreal Engine is now at the Public Preview stage, and this is where we could really use your help! We want your input to help improve the final product, which we plan to release in 2022.
"Epic has always been committed to providing high-quality tools that empower content creators, and we're excited to see JetBrains supporting coders in a similar way through Rider. Combining feature-rich code completion and refactoring tools with a deep integration to the Unreal Engine toolset is fertile ground for transformative workflow improvements."
Ben Marsh,
Lead Programmer, Epic Games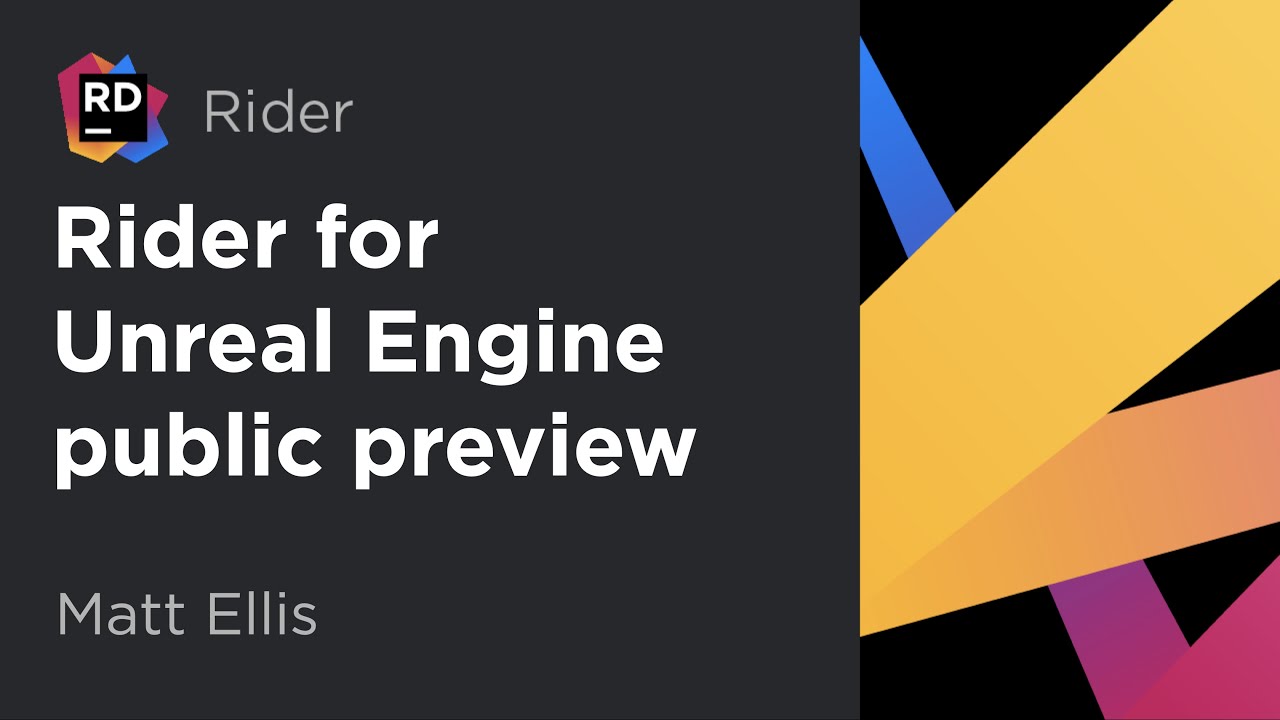 Introducing Rider for Unreal Engine
Five reasons to use Rider
for your Unreal Engine games
1.
A Fast IDE with native C++ support
Rider is powered by ReSharper C++, which offers native and cutting-edge support for modern C++. Users are helped daily by its 250+ code inspections, 50+ context actions, solution-wide refactoring, and code generation abilities.
This is all combined with the IntelliJ Platform's solid IDE features, such as super-fast navigation, integrated version control, and extensive plugin support. Rider provides this rich feature set without compromising speed or responsiveness.
2.
Knowledgeable about Blueprints
Rider for Unreal Engine doesn't just work with your C++ code. It also reads the Blueprints (BP) from your project and the Unreal Editor, along with plugins from both. This allows Rider to show the usages in BP files, as well as the values of the overridden properties. When navigating to BP objects, Rider opens them in the Unreal Editor.
3.
Assists with the reflection mechanism
Unreal Engine reflection macros are more than just simple text! To speed up the process of game development, Rider provides code completion for reflection specifiers and shows the documentation in the Quick Documentation popup.
4.
Takes care of the Unreal Engine code style
Rider accommodates Unreal Engine naming conventions across all its actions, which helps keep your code easy to read. Inconsistent Unreal Engine naming inspections detect names that don't follow the rules and suggest a quick fix.
5.
Profound code analysis & RPC support
Rider ensures that your Unreal Engine code is accurate with the help of specialized Unreal Engine inspections for missing or incorrectly set Unreal Engine reflection macros. Similarly, code navigation and generation actions are set up to deal with Unreal Engine Remote Procedure Calls correctly.
Do you also develop Unity games? Learn about Rider for Unity.
Frequently Asked Questions
I own a license for Rider. Will I get Rider for Unreal Engine when it's released officially?
Yes! Rider for Unreal Engine will be an official part of our JetBrains Rider IDE, which we see as our main offering for game developers.
Can I debug my Unreal Engine game in Rider?
On Windows, Rider comes with an LLDB-based debugger developed by the JetBrains team that is capable of debugging code built with the Microsoft Visual C++ compiler. It has support for Natvis files and automatically finds and loads UE4.natvis, providing user-friendly views of Unreal Engine data types.
Do I need a specific project model to start working on my Unreal Engine project?
You can work with your .uproject directly in Rider, without generating a Visual Studio solution or Xcode project files. This requires Unreal Engine 4.25.4+ on Windows, or Unreal Engine 4.26.2+ on macOS. On Windows, you can alternatively open your .sln files in Rider for Unreal Engine.
See Full FAQ
What the very first early adopters say about Rider for Unreal Engine
"Rider has quickly become the only IDE I want to use; for any Unreal Engine or Unity programming task. It has saved countless hours through its intuitive workflows, and I cannot praise its P4 integration enough. When producers see the speed at which we can go from tasking to resolution, they are enamored with the product. Rider removes all the developer choke points, which prevent us from doing what we do best, code."
Matthew Davey
dotBunny
"The speed of Rider C++ is amazing! Opening a full project in around 5 seconds, indexing everything in 20, and finding any symbol in 1. I've never worked in C++ for Unreal Engine 4 so fast!"
Emanuel May
Gameplay Programmer
"Rider has the best code navigation speed I've seen so far, it makes my work much smoother and easier."
Antanas Kalininas
Senior Software Engineer at Massive Entertainment
Join the Early Preview
The Many Sides of Rider
Rider provides the power to productively develop a wide range of applications, including .NET desktop applications, services and libraries, Unity and Unreal Engine games, Xamarin apps, ASP.NET, and ASP.NET Core web applications, and more.
Explore Rider